VenYou201 has a beautiful story of faith with purpose. This non-profit event and meeting space is perfect for your work and social gatherings. Not only is the space itself gorgeous, but the reason behind it is extremely heartwarming. We are compelled to share the parallel story as it is intertwined as to how VenYou201 became Okaloosa County's most affordable and newest event space!
A group of Warrior Women realized that there was a problem in their community. Some single moms are struggling in their community, slipping through the government cracks, and some were living in really bad places. This group of women took action and operated out of their homes and local meeting spots through their church to help these moms and little ones! They raised funds to provide diapers, electric bills payments, and other helpful things; but in their hearts and minds they knew it was not enough. They wanted to teach life skills, provide a temporary home, and create more substantial ways to help these moms and kids to be prepared to take on a new life! After some thoughts and prayers Crisis Aid for Littles and Moms (CALM) was born!
The founding members of CALM knew they needed to purchase or build a location to provide these services. With big dreams and limited funds, they started the search, and kept having the faith. On December 20, 2017, newly minted secretary of CALM, Chanie Erb, who happens to also be a successful realtor, was busy driving through Niceville all day to show homes and meet clients. Her tasks for the day were tinged with the thought of CALM's needs in the back of her mind. During the drive, she took an unusual route back and forth all day passing by 201 Redwood Ave in Niceville multiple times. Nothing really striking about the drive, but something kept pulling her down the route. On the fourth pass, she noticed a for sale sign in the yard of this little church. As a realtor, Chanie is always aware of these signs and she knew for a fact that it had just been put up. At that moment, she knew it was the place! She felt that God put her there on that route all day, and her faith confirmed it.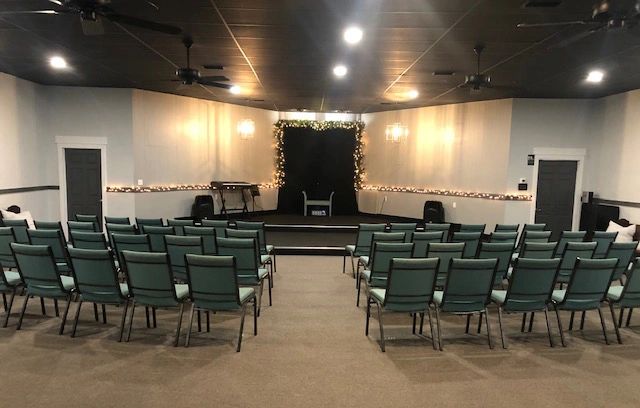 With the help of an anonymous donor, the church, lot, and adjacent school building were purchased for CALM. With community donations such as the landscaping and volunteers such as students from Rocky Bayou Christian School and Mission Northwest the Sunday school building became a home for the moms and the former church has now been transformed into a beautiful event space! Even through the struggles of COVID, they were able to open with a ribbon cutting in August 2020. ALL proceeds from the event space, VenYou201 goes to the CALM non-profit organization.
Joy Andrews, manages VenYou201 and maintains an affordable community space that can be used to host any event including small concerts, wedding receptions, business meetings, craft shows, birthday parties and much more. Not only will you get an amazing event at VenYou201, but you are helping CALM accomplish their very worthy mission. The event space is filling up with events quickly and is more successful than originally imagined.
Creating VenYou201 took a lot of innovation, brainstorming, and faith. The creative revenue source to provide for CALM is a genius way to have the community help a great cause as they celebrate life events, gather socially, come together over music, and enjoy a refreshing atmosphere for work meetings.
Advice Corner: Tips from Chanie
1. Stay 100% fluid and ever changing. Focus on what the needs are, not always the desires.
2. Conduct a feasibility study, determine what can help make your business successful.
3. Have Faith.
If you would like to learn more from Chanie, Joy and the CALM team, or book your next event visit contact them at 850-280-4420 or email them at venyou201@gmail.com. Check out their website at: https://venyou201.com/