"It's All in the Name"
By Lenaha Kidd
Business Startup is not always so easy. Sometimes it takes sheer dedication, willpower, and even physical power to become an entrepreneur. This month's spotlight on the Fortis Fitness Studio focuses on making changes and sticking with it to make your entrepreneur dreams come true.
Nate and Liz Ribaudo moved from Chicago to Okaloosa County in 2016, unprepared for the huge adjustment from big city life to their new, slower-paced home in the panhandle. They were excited to arrive to Florida, ready to open their own fitness studio. You see, Nate had a dream to open his own gym since high school. At 18 he became a personal trainer, worked for multiple big-name gyms throughout California and Chicago, and even helped one of them open a new franchise. How were they going to do this with no network, no friends, and no feasible locations for sale?
Nate found a position as a personal trainer at Husky Mafia Health and Fitness. He immediately felt the need to help make this gym a better place by not only boosting the number of clients, but also by suggesting a new, more appealing name. While this fitness studio was nice and had potential, it seemed as though the name was quite the turn-off for potential gym goers. In early 2018, Liz and Nate had the opportunity to purchase the gym and began the process of turning their dreams into a reality. Fortis Fitness Studio was born, and on June 30, 2018 they held their Grand Opening!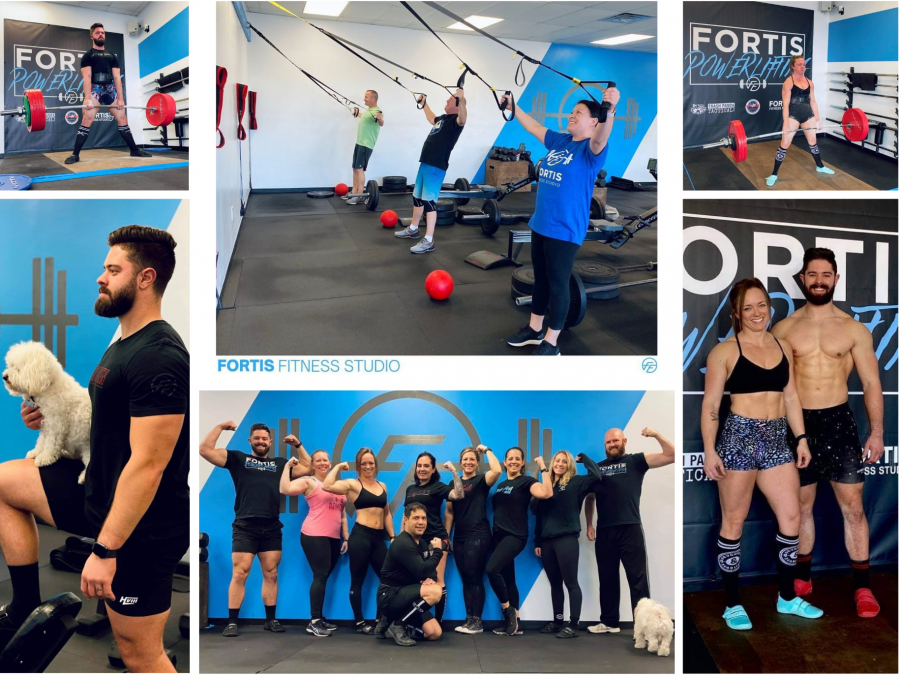 The proud new owners chose Fortis Fitness Studio as the new name, because it embodies the environment they wanted to build: first class, quality personalized training. Fortis is Latin for "Strong" and redefining "Strong" is what they are all about!
The goal was to offer Fit Classes for all ages and fitness levels, offer weight and powerlifting training with the Barbell program, and to provide personal one-on-one training with any member of their team. They also value health, wellness, safety, and resiliency education and they now share it with the world via their new podcast: "Fortis Worldwide."
They rebranded, reinvigorated the gym space, networked, and soon people of all fitness levels started to take interest. It took several months as Nate and Liz sacrificed a lot of their own physical time and attention. "This process changed my life," said Nate as he reflected on the beginnings, "building a community and helping people was and is our priority." They wanted to "create an environment in which clients want to go to the gym versus feeling like they have to go to the gym."
Advice Corner: Tips from Nate and Liz when starting a new business venture.
It is all in a name! Create a name that your customers and employees can relate to and be proud of.
Networking and promotion are extremely valuable, especially when you are new to the area.
Consider offering a free trial period or product for customers and they will come back.
Everyday flexibility is key – often more beneficial than rigid processes.
Keep your ego in check; starting out and building a business is a humbling experience.
If you would like to learn more about Nate and Liz, Fortis Fitness Studio, or check out a free gym trial, visit them 2084 US-98, Mary Esther, FL 32569. https://www.fortisfitnessstudio.com/