---
Hub City Smoke House and Grill
---
In 1988 Mike Carroll was stationed at Columbus Air Force Base, Mississippi where, as "young GI", he won his first BBQ contest. From then on, he entered and won as many contests as possible, but ultimately retired from the Air Force in 1995 to Panama City. His trade was Civil Engineering, which brought him to Crestview, Florida, but he soon realized he loved his knack for making good barbeque.
Something he heard over and over again was "Mike, you need to start a restaurant….your BBQ is so good!!"He wondered, "How does a civil engineer build a successful restaurant business?" Well, it all started in 2010 in the south side of Crestview where Mike and his wife, Lori, opened up a small "Mom and Pop" shop in a strip mall. It was a scary venture for them when they started they had just four employees and no knowledge of the business world.
One of the first big shocks, he soon realized, was dealing with employee wages and hiring people. It was new to Mike and Lori, something they had no real experience with. They soon found out, however, that making sure his employees were taken care of, especially when "life happens" is a top priority. Many times, Mike and Lori ensured a light bill was paid or a gas tank is full so their employees could come to work. Over the years, he learned that it can be tough to keep good employees, especially in the COVID environment, but even so they are successful in keeping up with 85 employees over three locations!
Mike and Lori executed innovative and fun ways to keep their customers coming back and being a part of the Hub City Smokehouse and Grill family. The first way is to provide the regulars with their own aprons. The story goes that one loyal customer ate in the restaurant all the time, but he always managed to leave the restaurant with BBQ stains on his shirt! Mike decided to make an apron specifically for him with his name and suddenly a new tradition was born! Now there are aprons for every regular customer to include Representative Matt Gaetz.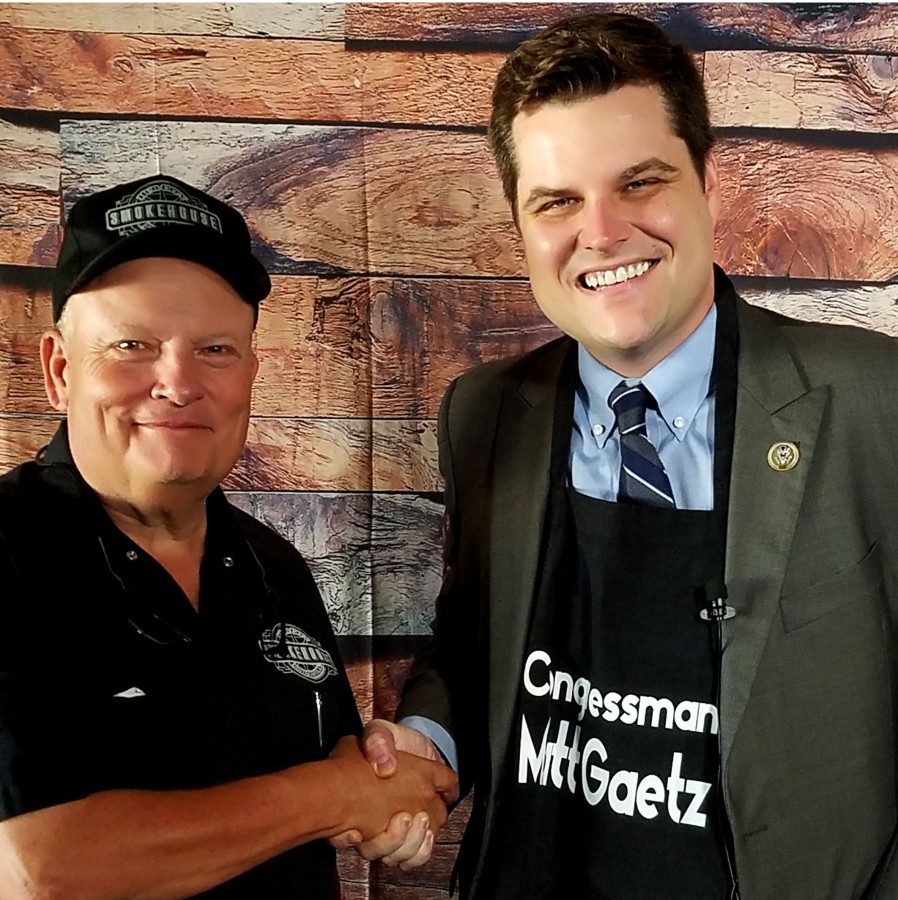 Another fun way to keep the customers engaged is the shot glass for a pork sandwich tradeoff. From their travels, Mike and Lori collected shot glasses from all over. Now they have amassed over 2000 shot glasses! When customers travel they bring back a shot glass to trade it for a free pork sandwich. It is a fun way for Mike and Lori to continue the tradition and include the community on their love of traveling.
Age is not a factor when joining in on the community spirit! For the little kid patrons, 25₵ can get them a chance at the yellow gumball. When a yellow gumball is won, a prize can be grabbed from the famous Treasure Chest. Naturally, when a parent asks "Hey kids, where do you want to go for dinner?" they reply, "To the Yellow Gumball Place!" For the parent they may recall the joys of gumball machines and treasure chests as well and it brings a smile to their face.
Despite becoming a new restaurant entrepreneur at the age of 50 and overcoming huge learning curves, he moved the small little strip mall business to Crestview's Main Street in 2015, and has since opened two additional locations. In 2017 Mike, Lori and the Hub City Smokehouse and Grill team won the "Florida Retailer of the Year!" This is a true testament to their hard work and dedication to make sure the customers and community are a part of their business. When asked what his secret was for keeping this business so successful he simply replied, "Make Yourself Unforgettable." This is his favorite catch-phrase and we love it.
Advice Corner: Tips from Mike
1. Do your homework – It is one thing to be able to make great food, but learning about leases, inventory, payroll, and taxes is important to know before starting a business!
2. Stay Flexible and Adaptable – Determine what you really need to spend your time on as well as how much time to spend on it. Not everything will require your full attention and sometimes it really feels like "herding ducks!"
If you would like to learn more about Mike and Lori, visit them at one of their restaurant locations: Hub City Smokehouse and Grill at 168 S Main Street, Crestview, FL 32536. The Hub American Family Restaurant: 346 W. James Lee Blvd., Crestview FL 32536.