Veteran Entrepreneur Series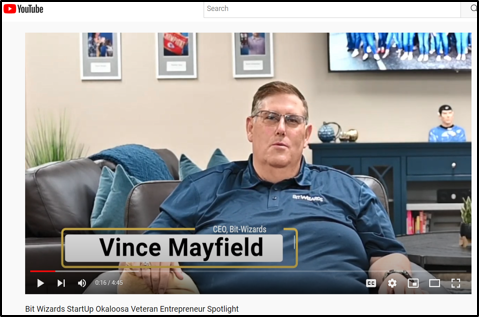 In this third video in the series, US Air Force veteran Vince Mayfield and his long-time best friend and business partner, US Navy veteran Louis Erickson, discuss their journey as the co-owners of Bit-Wizards in Fort Walton Beach, FL. Founded 22 years ago, Bit-Wizards is an award-winning technology company specializing in software engineering and managed IT services. Watch the video linked below to hear Vince and Louis share their perspective on the value of having a partner to use as a sounding board, the benefit of community engagement and why paying attention to company culture is vital to success!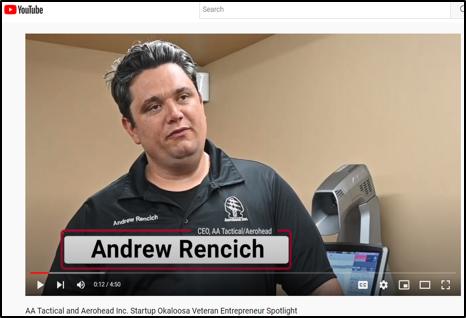 In the second video of our new series, US Army veteran Andrew Rencich, discusses his transition from the 7th Special Forces to successful co-owner of two businesses - AA Tactical and Aerohead Inc. in Crestview, FL. AA Tactical is a full service firearms and accessories retailer, while Aerohead Inc. specializes in contract manufacturing and machining of precision parts. Learn how Andrew parlayed the lessons he learned during his time of service into success in the business world by following the link to the full video!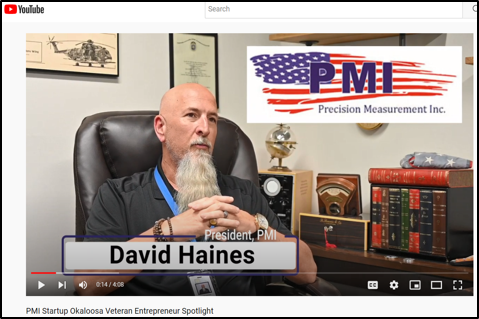 In the first video of our new series, David Haines, veteran and entrepreneur, shares that the skills he learned in the military directly crossed over into the civilian sector, so he took what he learned from the military and started his own business in 2005. Precision Measurement Inc. (PMI) provides calibration testing services to a variety of customers. Learn more about the entrepreneurial journey of the President of PMI by following the link to the full video!